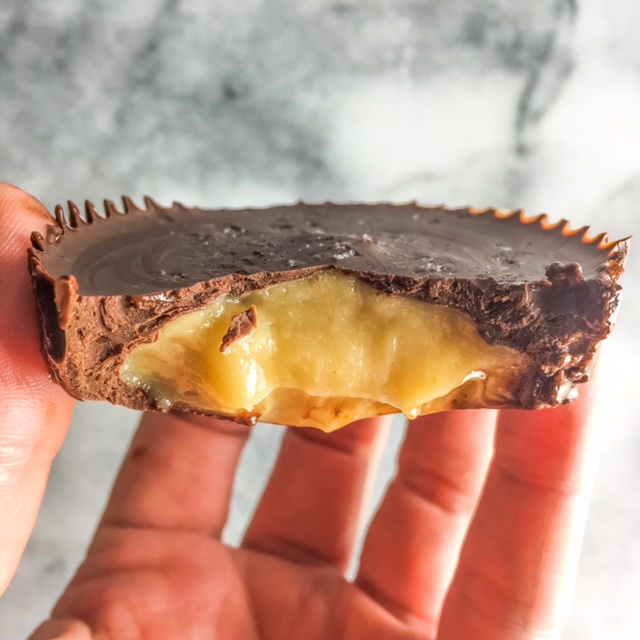 Tonight is the night. After one loooooong, miserable week of being put on insta-mute without warning or explanation, I can finally get back to my regularly scheduled programming!! This calls for chocolate.
I'm a biiiiiig fan of chocolate and mint together. I love mint-chocolate-chip ice cream, I'm always making mint-chocolate-chip green smoothies, and if you've ever been a guest in my home, you know I like to leave little chocolate-covered mints on your pillow. But my fave is the Nordstrom Cafe mints. Anytime I go there and they bring those little chocolate-covered buttermint sticks with the bill, I rejoice. I don't care if I'm completely stuffed, I'll still rip that lil guy open right then and there and savor every last morsel. Now that I no longer live within a ten-mile radius of three different Nordstroms from which to choose, if I want to get a chocolate buttermint fix on the regular, I've gotta make it myself.
Except I made it better. And gooier. And just basically mind-blowing-er. You take a bite and rich, creamy, buttery, mildly minty filling ooooooozes from the confines of its salted chocolate prison. It's IN. sane. Try it. Just trust.

Chocolate Buttermint Cups
My ode to the delightful little after-dinner treat that is the chocolate-coated buttermint.
Ingredients
Chocolate Shell:
¼ cup vegan dark chocolate chips (I used Enjoy Life brand)
1 tbsp coconut oil (I used Nutiva brand)


Filling:
1 tbsp cashew butter (I used Artisana Organics brand)
2 tsp Nutiva buttery flavor coconut oil
a few drops of peppermint extract
tiny drizzlet of maple syrup


Maldon sea salt flakes for topping
Instructions
First, I joined the cashew butter, buttery coconut oil, peppermint extract and maple syrup together as one, stirring it all together into one little blob of buttery, mildly minty numminess.
Then, I melted the chocolate chips and coconut oil in a small bowl in the microwave for about 45 seconds. Then, I stirred it all together until it was one big, melty bowl of chocolate-y goodness.
I lined a muffin tin with two muffin liners and spooned a little chocolate into each little cup, just enough to cover the bottoms. Then, I split up the filling between the two cups, then spooned the remaining chocolate on top of each little glob of filling.
I sprinkled a little flaked sea salt on top of each cup (gotta have the salty with the sweet - it MAKES the whole thing), then I set the tin in the fridge and went about my biz for the day.
Then, as usual, I waited until my boys went to sleep so I could stuff my face in peace, no sharing required.