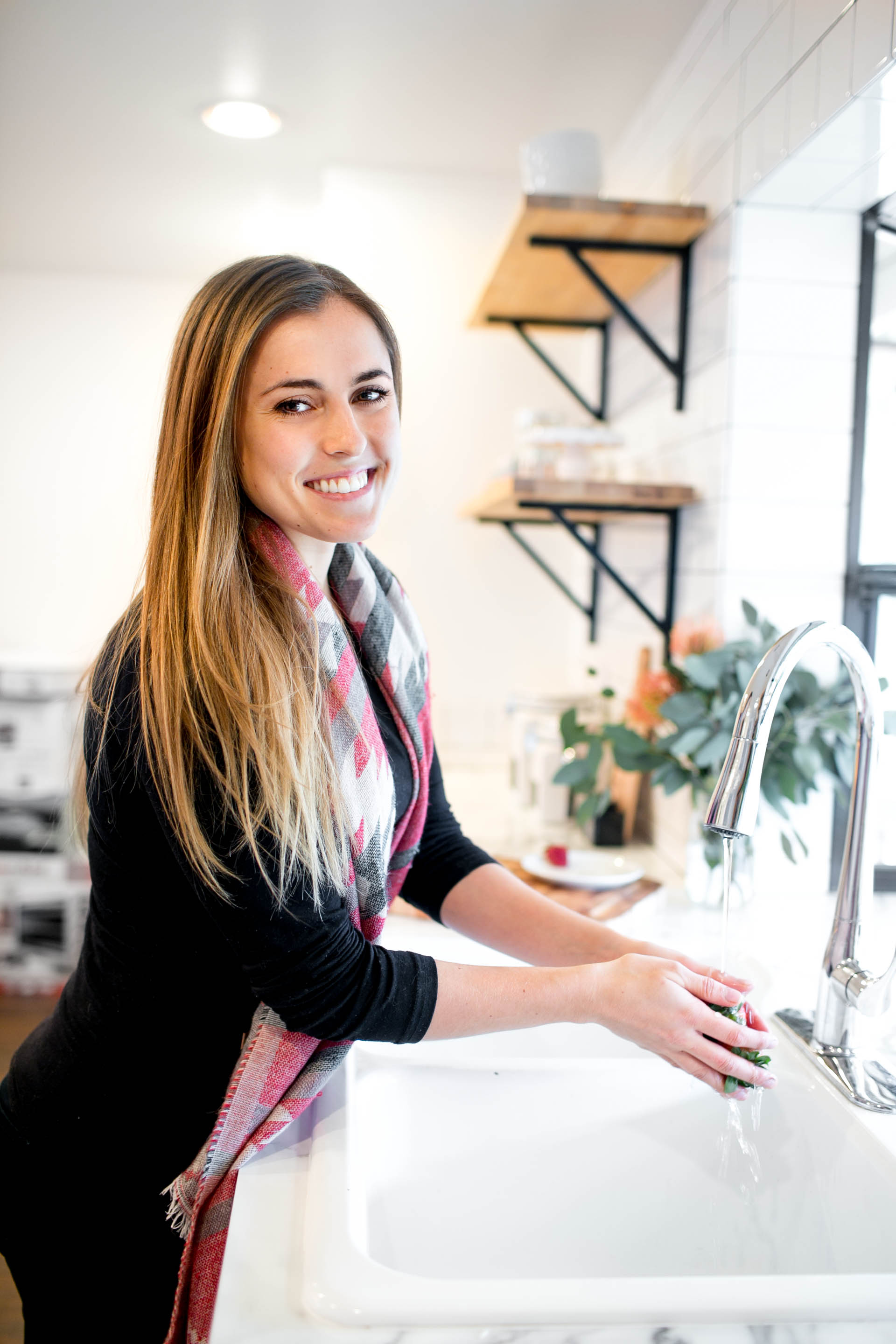 If you're an Insta-foodie, chances are you already look to this registered dietitian for daily healthy-eats inspo. I first discovered the Rachael DeVaux brand of genius (aka @rachaelsgoodeats) in late 2015 when I stumbled upon her jaw-dropping Instagram feed – squares upon squares of drool-worthy salads and delicious waffles and artfully-arranged snacks, all healthy and all so really, really, ridiculously good-looking that I legitimately contemplate licking my phone screen every. single. post. But it was one of her many inspired creations that really sealed the deal: the omelettata.
As its name so aptly implies, it's part omelette and part frittata – the efficiency of a quick-cooking omelette (minus the muss + fuss that comes with multiple skillets and the dreaded fold-over), married with the ease and delightfully crisp edges of a frittata, joining together to form one big veggie-loaded egg-baby. It's literally one of the best things I've ever stuffed into my piehole, and the fact that it's insanely simple and quick to throw together means that it has easily earned a spot in my weekly meal rotation (and let's face it, my heart). 
And now, having just earned her RD to become a real-live Registered Dietitian (I mean, even her initials spell RD. Ummmm, hello destiny.), Rachael is waaaaaay too legit to quit. In fact, all signs point to full-steam-ahead for this cutie patootie lil health-foodie. (Lucky me!!), I had a chance to catch up with Rachael and ask her a few questions about how she got here, and where she's goin' next.
Ok, so spill. How did you get so interested in healthful eating and pursuing it as a career?
RD: I always played sports as a kid and have loved to work out and exercise since day one, but I think the nutrition aspect of it didn't interest me until I was a junior in high school. I started picking up tips from my mom in the kitchen and choosing more wholesome eats vs. processed foods. I even remember my older sister coming home from an outing with her friend to me sitting at the kitchen table scarfing down the biggest plate of steamed broccoli you'd ever see in your life. She looked at her friend and said, "I have the weirdest sister in the world," and walked up the stairs. I think it was at that point I knew I was destined to be a true foodie. Every year since then, I've progressively become more knowledgable both in the kitchen and with the foods I consume. 
Why did you start sharing your recipes on Instagram?
RD: Because I didn't want to annoy my friends on my personal IG account with the typical "Instagram-worthy" meal posts.
You grew quite a large following pretty quickly, what do you think is the recipe (yes, I punned, it's what I do) for your success?
RD: To be quite frank, I'm still astounded at the following I've accumulated over this past year and a half. I've made it a point from the beginning to be personable and approachable to anyone with questions or concerns on my page. I've built great relationships with health-food brands, other influencers and a good chunk of my followers.
I don't want people to feel intimidated by healthy eating so I try to show that something as simple as tossing a few ingredients in an oven pan and pressing the "broil" button (my favorite trick in the kitchen) can create a pretty spectacular meal in just 12 minutes or less. I think the fact that I've always included the full recipe with ingredients and directions in the caption has caught the attention of a number of followers as well. When I first started, I remember most food instagrammers simply referring to their blog to find the recipe, and that's just too tedious for many.
What is the question you get asked most on your Insta?
RD: When will I come out with a recipe/eBook.
Speaking of a recipe book, what is your ultimate career goal? Where do you see yourself in 5 years?
RD: I think I've really found my niche, and I'm determined to pursue it as long as I can. I'd love to go into recipe development, more food photography, perhaps working with health-food companies, creating meal plans or meal preps for people, and even a cookbook down the road. As long as I get to be in the kitchen, I know I'll be happy!
Most favorite thing about Instagramming? 
RD: My favorite thing is that I get to share the foods I love with anyone interested and get to connect with so many other people passionate about the same things I am.

Annnnnnd your least favorite thing?
RD: My least favorite thing about the 'gram is that I'm so invested in posting photos and making sure I'm up to date with everyone's lives and foodie records that it's hard for me to spend a good amount of time without my phone. 
I feel ya on that one, girl!! Ok, so what is something that people would be surprised to know about you?
RD: I've totally changed from a processed food junkie to the biggest food snob. "Was this fish wild-caught or farm-raised? Those eggs are organic, pasture-raised, right??"  And by processed food junkie, I mean I would eat the entire Pillsbury cinnamon-roll canister in one sitting, loooved the combination of salt + vinegar chips with pepperjack cheese, loved Top Ramen, corned beef hash in the can, and don't even get me started on mac + cheese with hot dogs. Granted, these choices were generally made in middle school, but I think it's pretty funny how far I've come.
So what's your food philosophy now?
RD: It's important to educate oneself on the benefits of good, wholesome foods in order to fully understand the impact it's having on the body. Personally, I think becoming familiar in the kitchen is the first step in making healthier decisions. Once you figure out how to prepare healthy foods at home, you may be more inclined to choose healthier options when out and about. Oh yeah, and that food tastes better when it looks good! 😉
Ok, so I neeeeeeeed to know what floats an RD's (food) boat. What's your fave breakfast, lunch, dinner and sweet?
RD: Breakfast: Baked oats or omelettata.
Lunch: Tuna salad over mixed greens, crackers and raw veggies with a kombooch on the side.
Dinner: TONS of roasted veggies – brussels, cauli, onion, zucchini, leeks, you name it. Probably with salmon and farro.
Sweet: Literally any nut butter and I'm sold – preferably honey peanut butter on top of a piece of dark chocolate. I'm embarrassed to say the number of different jars I have (okay it's 36…). Or my go-to late-night snack is popcorn cooked in coconut oil and sprinkled with cinnamon, a few chocolate chips, and a handful of carrots 
What are your fave Instagram accounts or blogs for inspiration (I mean, of course Savoring the Flavoring is a total given, duh)?
RD: Savoring the Flavoring for SURE, jokes aside! Your photos are unreal and the fact you have a little army of men to take care of, and still create those insane recipes is something else!!!
I love @nourishedbykale, @_kruti, @fitandwellmedgal, @realfoodology, @dani_nemeh, @restoring_radiance, @melissas_healthykitchen, @shutthekaleup, @balancewithb, just to name a few. 😉
Awwww, you da best, Boo! 🙂 Annnnnnnd yet another reason we are food soul sistas, because I looooove all those gals!! Ok, so what's your next step? You have this ginormous band of loyal followers – where will you take that? You just debuted your blog, right? 
RD: I do consider them a loyal following! Some have even been with me since I started this account, which is still pretty crazy. Yes you're correct, I now have a blog – RachaelsGoodEats.com!! Hopefully, I'll be fortunate enough to keep this RGE thing goin' strong and come up with a few ideas and services I will provide on my blog. 
Ohmygosh, I'm sooooo excited about your blog!!! It's gonna be huge, I already know, because people really trust in you so much. Why do you think that is (Besides the fact that you're freaking awesome)?
RD: *Blushing* I feel like it's maybe because I've taken them on a journey and shared what's been happening in my life and the road I've taken to get to where I am. I hope that what I've been putting out on my page has started to stick with people. I truly believe that happiness is fueling your body with the proper foods it deserves and not restricting yourself. Everything in balance is key. Put as many colors as you can on your plate. Eat organic as much as you can. Simple, healthy habits create sizable changes in the body.
Say you're road-tripping through middle America, so no access to home-cooked food, and none of the healthier fast food or take-out options they tend to have in larger cities. What's your game plan in that situation? How can people make the best choices possible when options are limited?
RD: Well if it were me, you know I'd have a small backpack filled with all my favorite snacks… BUT, for the average person with no snacks, here are some tips and tricks to avoid the excess junk when eating out:
When at a restaurant, choose items that include the words baked, grilled, broiled, and roasted, instead of words like fried and crispy. Ask to sub the given side for vegetables. Ask for no added salt, since restaurants generally do a good job of overdoing it. Order the dressings/sauces on the side so you're in charge of how much you put on your meal.
Choose foods high in protein and fiber to keep you feeling full longer– Nuts, seeds, nut butters, legumes, greek yogurt, whole grain snacks.
Stop at grocery stores to stock up on things like bagged vegetables, hummus, yogurt, string cheese, apples, bananas, salad from the salad bar, check out the bulk item sections, instead of hitting up fast-food restaurants.
What's one health fad that drives you crazy?
RD: The gluten-free diet when the person has no intolerance or allergy related to gluten and is unaware of what gluten even is.
Word UP, girl!! Thank you SOOOO much for taking time out of your busy life to chat!! I can't wait to see what's up next in the world of Rachael's Good Eats!! 
Want more of Rachael's good eats, tips and tricks of the trade?? Click here to check out her brand-new blog, or here for your daily dose of @rachaelsgoodeats on Instagram!
Wanna make your very own killer omelettata? Try out this broccoli + cheddar version!
Broccoli Cheddar Omelettata
Author:
Katy Allan via Rachael DeVaux
Behold: the omelettata! The reason I fell in love with @rachaelsgoodeats in the first place (I mean, there are many, but this was the first!). It's easy, quick, nutritious, delicious and versatile - my favorite kind of meal!
Ingredients
2 tbsp avocado oil, divided (I used Chosen Foods brand)
5 organic white mushrooms, sliced
1 small head of broccoli, chopped into small florets
½ a medium zucchini, grated
1 green onion, chopped
2 garlic cloves, minced
a pinch of sea salt (I used and loooove La Luna Salt Lemon Rosemary Sea Salt)
a couple grinds of black pepper
2 pasture-raised eggs, beaten (I used Vital Farms Organic)
¼ cup grass-fed raw cheddar cheese, shredded (I used Organic Valley brand)


Served with organic sliced peaches, organic blueberries and organic strawberries
Instructions
First, I set the oven to broil. Then, I fired up my 10" cast iron skillet over medium heat on the stove. I added 1 tbsp avocado oil + let that heat up for a minute or so.
I added the mushrooms + broccoli + zucchini + green onion + garlic + sea salt + pepper, gave it a good stir + let it cook for a few minutes, stirring occasionally.
When the veggies were cooked after about 3-4 minutes, I drizzled another tbsp of avocado oil over the top + poured in the eggs, tilting the pan to distribute them evenly over all the veggies. I let that cook for a minute, until the edges were set, then I sprinkled the cheese over the top.
I stuck the skillet in the oven to broil for a couple minutes, just until the middle was set + the cheese was all melty + golden.
Served it with a side of fruity goodness + devoured!!!