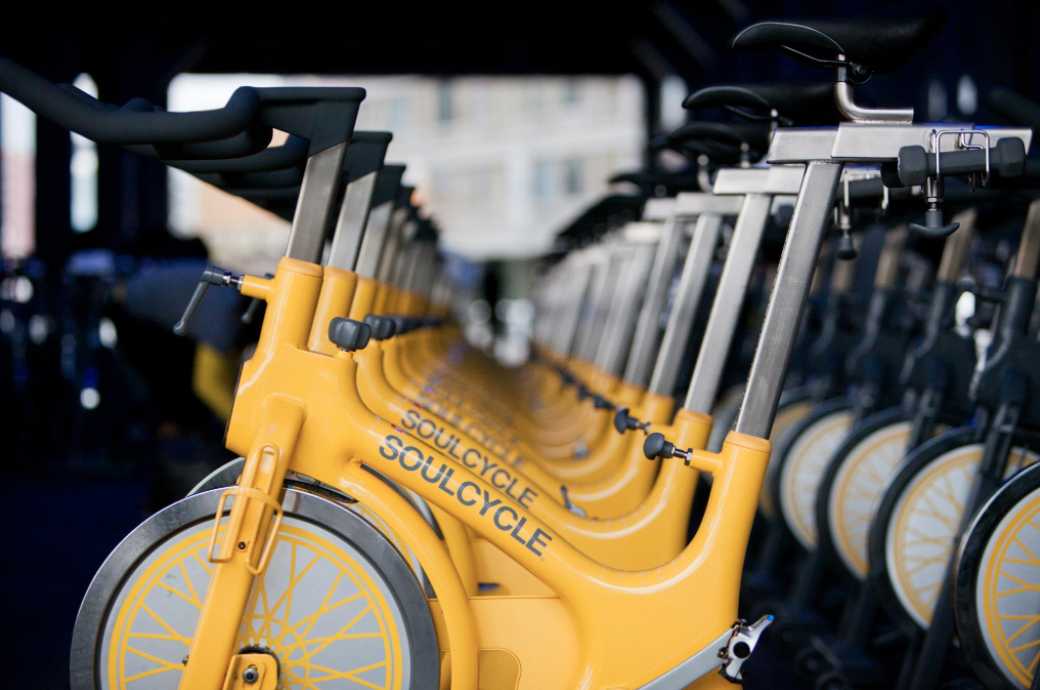 Living in Southern California was freaking awesome for my body, y'all. Beautiful, sunny weather beckoning me outside about 350 days out of the year, a neighborhood full of hills to power-walk daily, year-round farmer's markets loaded up with fresh, local produce on every corner, juice bars abound and a freaking badass health club where I used to fit in twice-weekly yoga sessions and two spin classes per week (plus a Zumba class if I was feelin' super coordinated). So when we moved back to my Deep South roots, to a small North Georgia town, it was a rude awakening. No spin studios, no farmer's markets, no spa/health-club hybrids, not a juice bar in sight. The closest spin class: 40 minutes one way – more like an hour in Atlanta traffic. Not happening.
I've spent the past couple years stalking my more geographically-blessed (at least in terms of spin-studio and farmer's market proximity) Insta friends, my eyes green with envy as they splashed their post-SoulCycle selfies across their feeds. WHYYYYYYY did we leave OC?!, I'd moan to myself, prepping for yet another P90X workout in the basement. My workouts had grown boring and bland. Which, in turn, sometimes makes the little devil on my shoulder go "Meh. Let's just skip it and eat all the things instead." No. Bueno.
So when I visited Newport this past November, I was freaking PUMPED to finally get my happy little ass in a SoulCycle saddle. Annnnnnnnd just as I expected, I loved it….with the exception of one little thing.
I'm an introvert. Which means my brain is constantly mind-f**king me in unfamiliar social situations. My inner dialogue pretty much went like this as I waited for class to start, lined up in a hallway overflowing with chiseled, bare-midriff-ed SoulCyclists: "See that chick over there in the white sports bra with the matching cleats and a waaaaaaay hotter body than you? Yeah, she sees those standard-issue SoulCycle rent-a-cleats you're wearing…and she's not impressed. She knows you don't belong here. You should probably just ditch the cleats and bail. Act like you just saw someone you know outside and walk right out the door."
I felt like a total douche. Like I was at this cool cycling studio about to do the cool, new workout with all the cool people, and therefore was trying to give off the impression that I, too, am cool. One problem: "cool" wasn't on the menu of available upgrades the day my mold was cast. I'm just not one of those naturally cool people. I'm a grammar nerd, I know useless facts about the U.S. presidents, I have perpetual pit sweat. Cool people don't have sweaty pits. It's not allowed.
Luckily I had a back-row seat, so no one could bear witness to my frequent, red-faced struggle to sync with the choreography (other than my BFF who was there with me, but she's required to love me regardless). And if no one sees it, did it even actually happen?? Despite feeling like a complete and utter turd in a punch bowl amongst all the expertly outfitted, perfectly choreographed SoulCycle regulars, I fell in love. This is my Mr. Right of workouts, I mooned. It's like spin, but with….soul.
Then, it was back to the land of no spin, to face the cold, hard reality of a life without SoulCycle.
So when I first came across an ad for the Peloton spin bike on Christmas afternoon, it was like the stars had aligned just for me. A badass spin bike with a built-in screen that would allow me to take unlimited spin classes from HOME, anytime I want?!?! Yes. My answer is yes. I do. Where do I sign? John, grab my wallet.
My bubble was quickly burst when my more fiscally conservative husband reminded me that we had just spent a pretty penny on Christmas gifts, and that perhaps spending $3300 total ($2000 bike, plus tax, plus shipping, plus one year of unlimited class access up front…annnnnnd then $40/month each month after that) on a new spin bike right now wasn't the best idea I've ever had. Whatevs, I thought, only halfway listening to his maddeningly sensible drivel as I plotted to make this bad boy mine all mine.
I spent a solid week obsessing and doing what I do best: researching. (They don't call me Inspector Gadget for nothin'.) I went on Amazon and found a spin bike with awesome reviews. $279, plus free 2-day Prime shipping. Boom. I had it put together in about 20 minutes. Then, I found out that Peloton not only has an app with allllllll the same class availability as the Peloton bike, but it's only $12/month, as opposed to $40/month with the Peloton bike. Double boom. I loaded that puppy up on my iPad, stuck it on my handlebars and hopped on.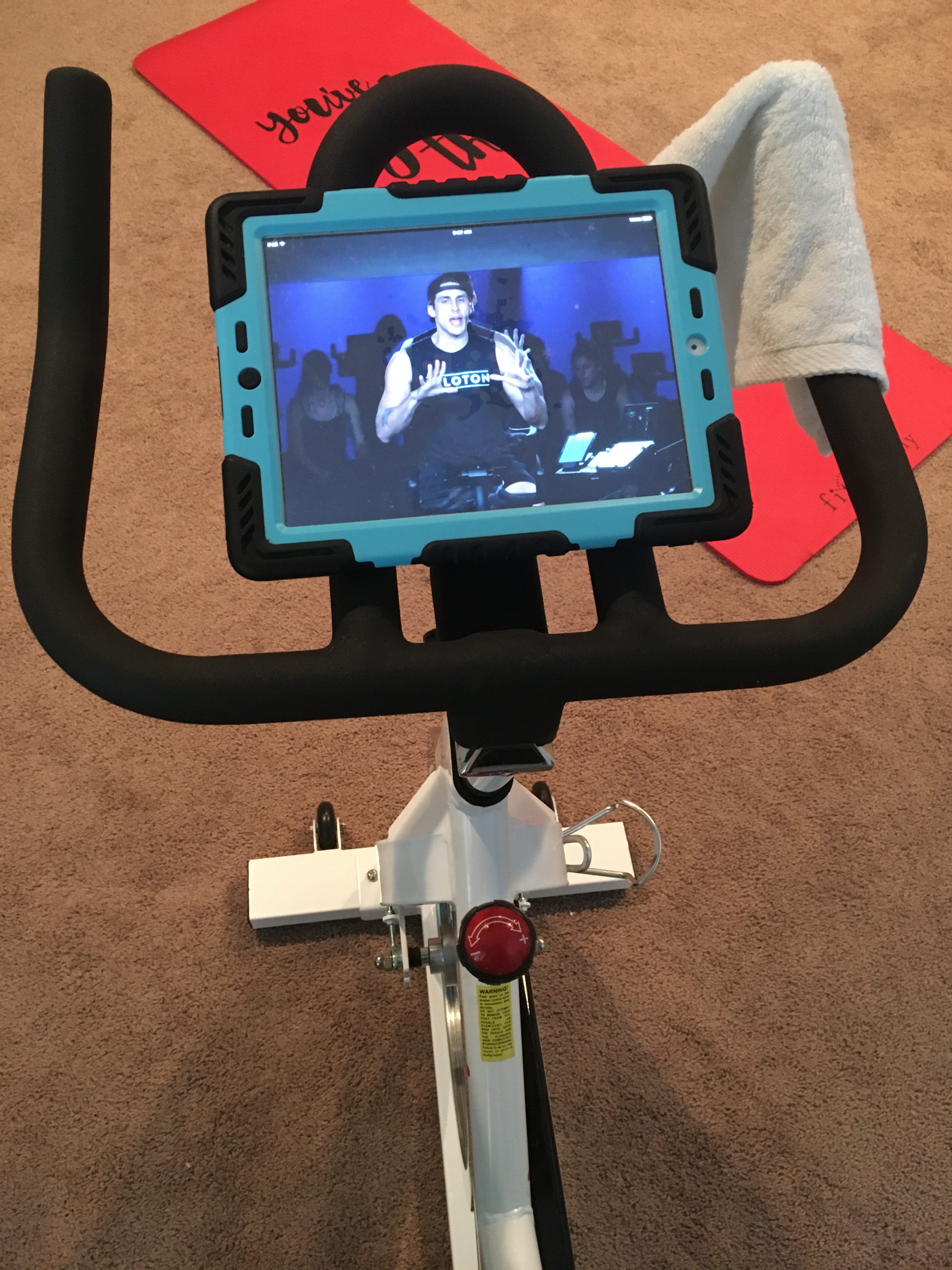 Y'all. It's like alllll my SoulCycle dreams have come true. I honestly feel like I'm in a class each and every time I saddle up on this baby. Only this is way better because it costs less and there's no one around to watch me fail miserably at the choreography. Unless you count the naked child or two loitering around the basement as I ride. But I'm their meal ticket, so they keep their criticisms to themselves. And the best part of all: I didn't even step foot outside my house. I highly recommend.