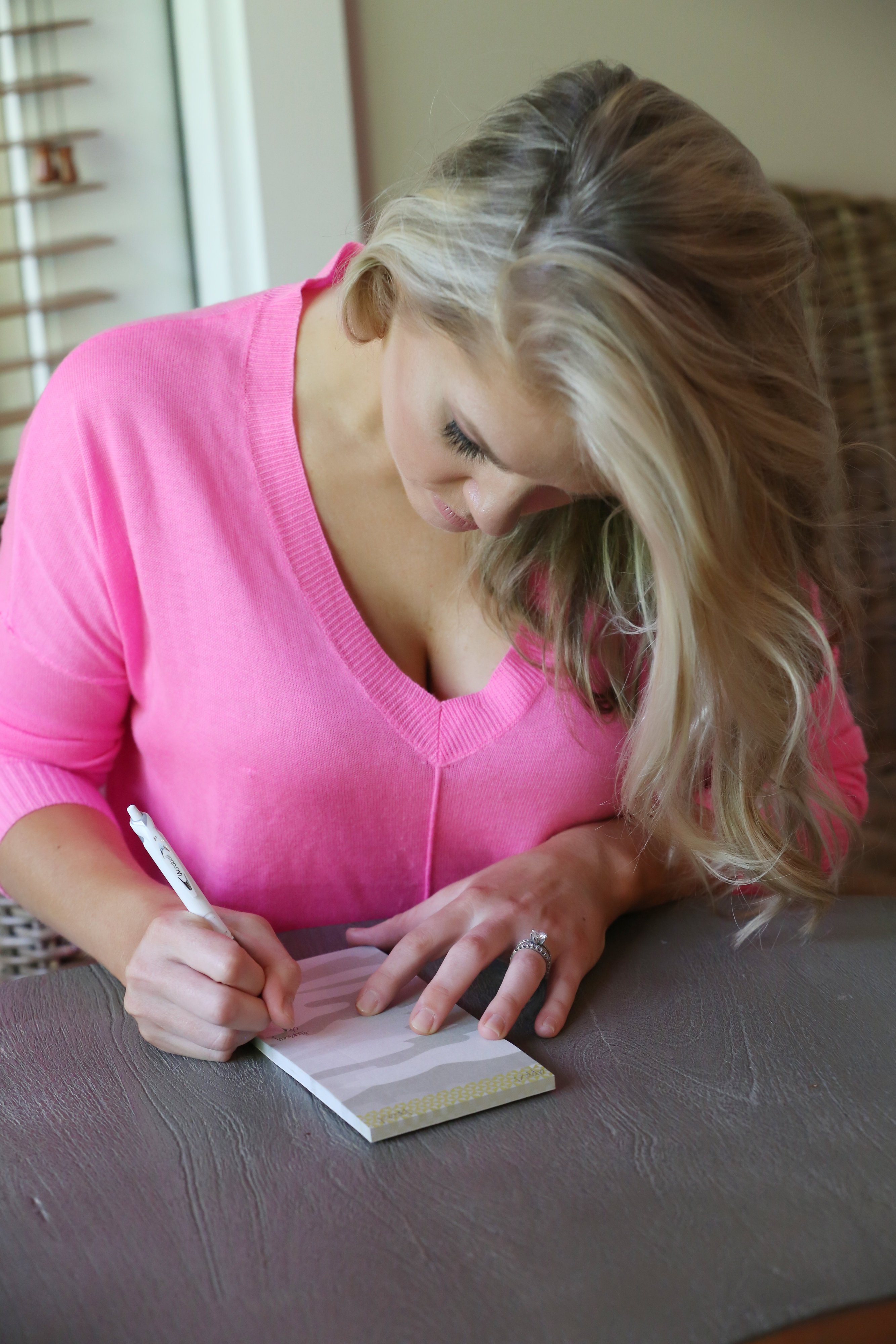 Meal planning is a key component to my cooking success. It makes grocery shopping a breeze, it helps me stick to my budget and it ensures that I won't have any game-time surprises ("Shit! I could've sworn we had cilantro!!") when it's actually time to make dinner, avoiding last-minute take-out.
I always have notepads in my kitchen junk-drawer (Usually, notepads that I've pilfered from my last hotel-stay. I told you, I'm on a budget.). Throughout each week, I keep a running list on each side: a week's meals on one side, a corresponding grocery list on the other. This way, I can keep tabs on my pantry and fridge staples, adding them to my list as I run short, and I can add things throughout the week as I get inspired…
Staples I always have on-hand:
Pantry: chicken broth, veggie broth, quinoa, oats, grits, canned beans, canned fire-roasted tomatoes, lentils, all-purpose flour, gluten-free all-purpose flour, oat flour, coconut flour, cane sugar, coconut sugar, brown sugar, maple syrup, raw honey, green tea, nut butters, coconut milk, cacao powder, chocolate chips, vegan chocolate chips, raw cashews, raw almonds, salted peanuts, dried fruit, garlic, onions, potatoes, sweet potatoes, baking powder, baking soda
Fridge: eggs, butter, ghee, medjool dates, tamari, vegan mayo, mustards, whole milk, nut milk, plain greek yogurt, baby spinach, apples, avocados
Freezer: frozen fruits + veggies, frozen rice
Spice cabinet: olive oil, coconut oil, toasted sesame oil, vinegars, mirin, vanilla extract, vanilla bean paste, cinnamon, nutmeg, garlic powder, onion powder, smoked paprika, cumin, oregano, basil, chili powder, dill, nutritional yeast powder, sea salt, black peppercorns, Maldon sea salt flakes,
With these things in my arsenal, I know I can always whip up something stellar.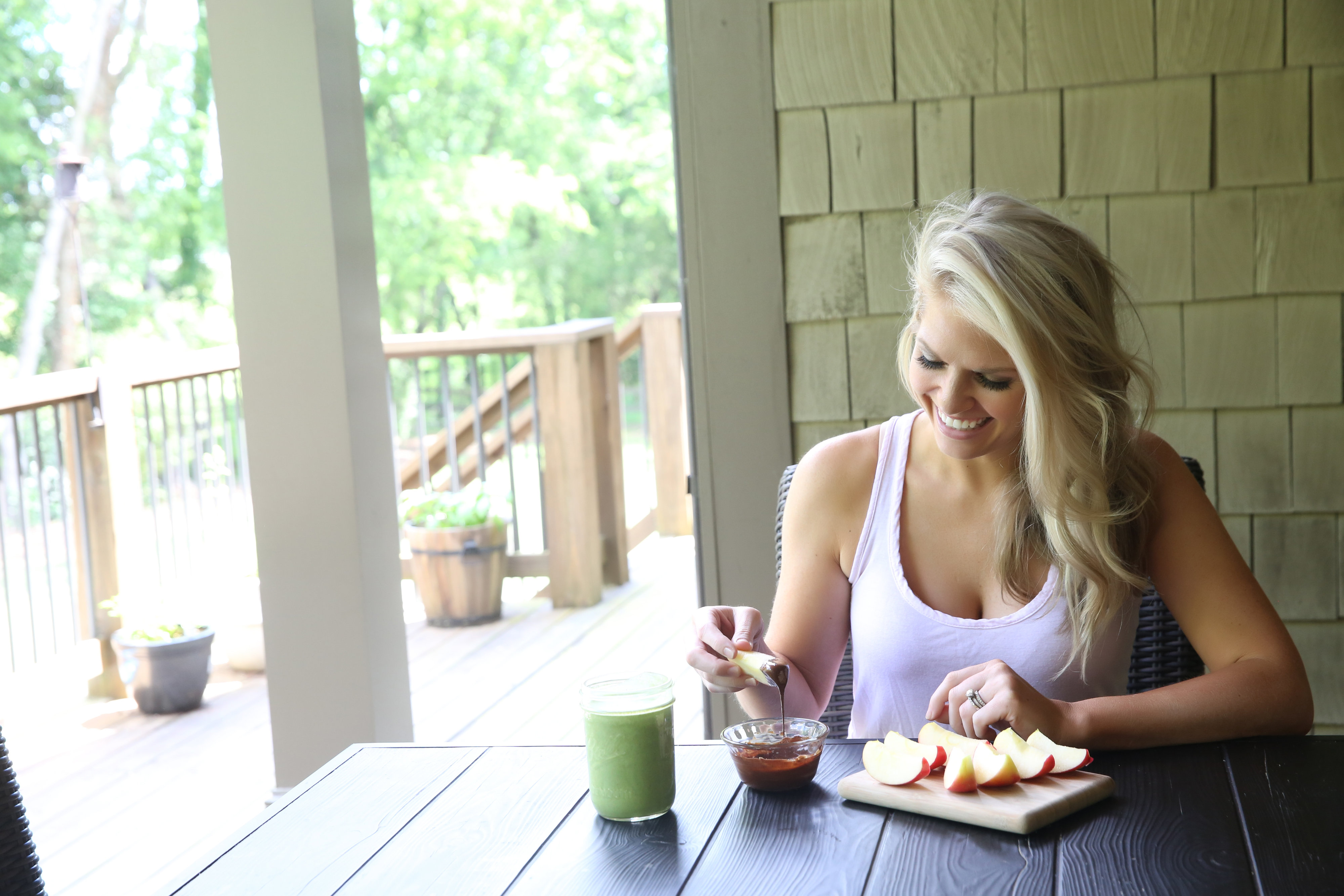 Inspiration for meals can come from anywhere. The possibilities are endless: cookbooks, magazines, Pinterest, social media, a favorite entree you recently tried at a restaurant, a tried-and-true classic. As you get inspired, write it down.
Every Sunday, I take my carefully-crafted list and hit the grocery store (kidless, if I'm lucky).
Buying all organic on a budget requires a little planning, but as is the case with most things, the more you do it, the easier it gets. I always have ingredients on hand for breakfasts and lunches, and I plan five dinners for the week, allowing a couple nights for going out to eat, grabbing take-out or heating up leftovers.
My weekly plan typically looks like this:
Two cost-effective meals: breakfast-for-dinner (the kids' fave), soups, pastas. The ingredients are cheap and very often these meals are vegetarian, which gives us a break from meat throughout the week.
Two protein meals: meals featuring pricier proteins like grass-fed beef, bison or pasture-raised, organic poultry or pork. Even in these cases, I find ways to balance the budget. Beef cuts such as flanks, sirloin tips and ground beef are actually pretty affordable, ground pork is inexpensive, and chicken thighs and drumsticks are a great way to stretch your poultry dollar.
One seafood meal: meals starring wild-caught fish (or responsibly-raised farmed fish, if wild isn't an option). This is typically the week's most expensive dinner, but still far less than you'd spend on a comparable dinner at a restaurant.
Planning in advance is the key to pulling off a week of healthy homemade meals. Work on your list throughout the week, keep your kitchen staples stocked and always be on the lookout for mealtime inspiration.