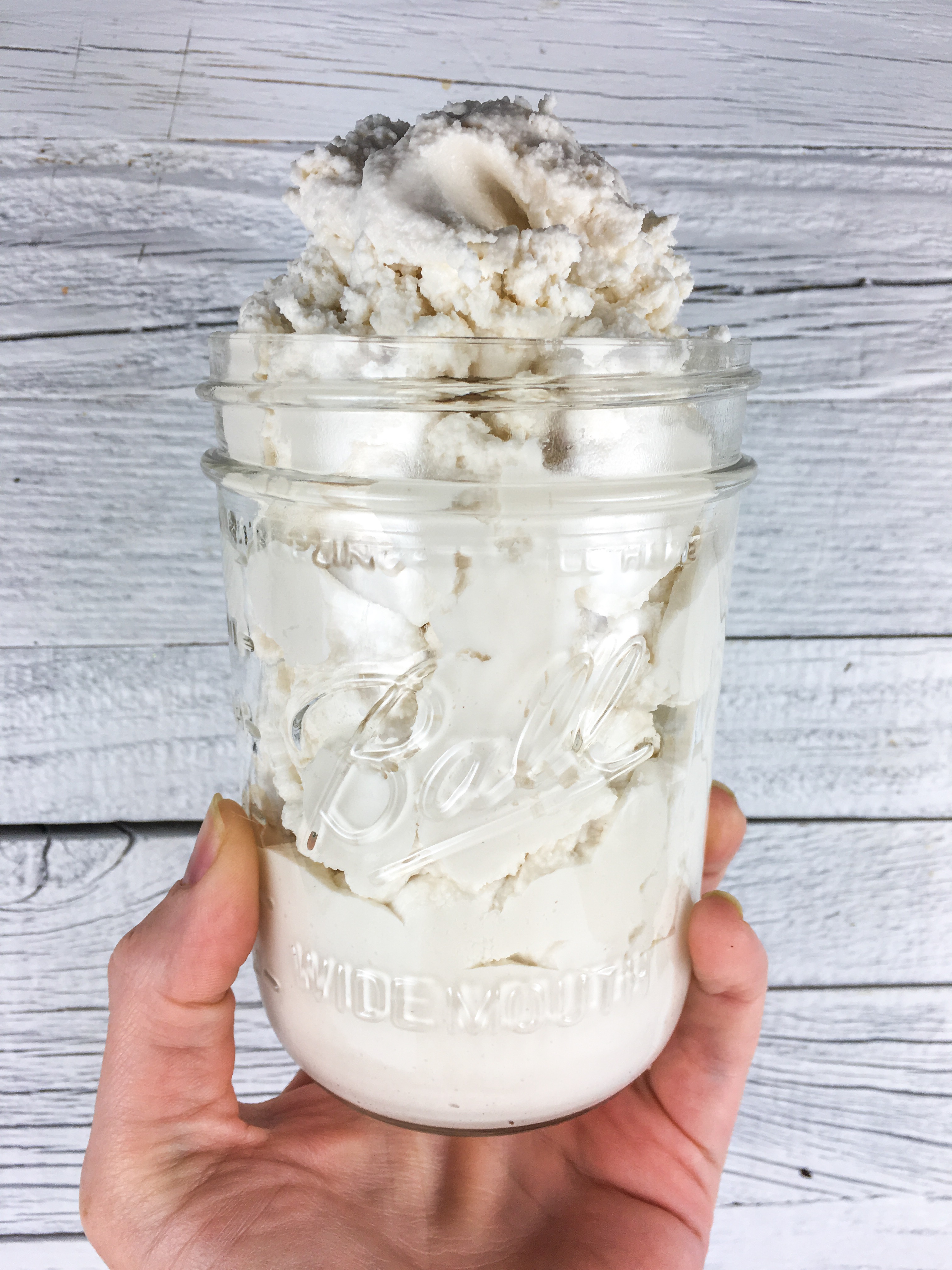 I'm a yogurt lover, y'all. Which makes the fact that my stomach doesn't share the same sentiment a real pain in the ass. For months, gone were the days of tossin' some fresh fruit + drizzly nut butter on a come-hither bed of pillowy yogurt goodness. Then I found some coconut yogurt at Whole Foods. Meh. I wouldn't say I enjoyed it so much as tolerated it in an attempt to fool myself into thinking there wasn't, in fact, a giant yogurt-container-shaped hole in my heart.
I thought my yogurt-filled ship had finally arrived when I heard about the Minimalist Baker's 2-ingredient coconut-milk yogurt. Every single recipe of hers I've ever made has turned out amazing, and while I couldn't imagine how just a can of coconut milk and a couple probiotic capsules would come together to form a magical yogurt baby, I was giddy about the creamy potential.
By failed attempt number four, the giddiness had slowly faded away. No matter how hard I tried, I just wasn't able to recreate the Minimalist Baker's magic. While each batch tasted fine, not one thickened up in the slightest. Now, y'all, I consider myself a kind of expert in the kitchen. Not classically trained, mind you, but still, I know my way around a cooktop. So when I have a recipe fail, it infuriates me to the very core of my being.
Then I heard rumblings of a hot new piece of coconut-yogurt tail hitting the market. All my favorite blogging baes (Are people still saying "baes"? That didn't feel right.) were digging into glass jars of luscious Coconut Cult coconut-cream yogurt as thick as frosting. And I wasn't. I gots to get me some o' that, I thought. Then I found out it's $25 per jar. And while it does have some craaaazy legit probiotic strains all up in each batch (honestly, I don't think I can duplicate that part of the equation), and I'm totally jealous of all you West Coasters who can easily get your hands on one of those coveted, flamingo-emblazoned glass jars, I personally just couldn't justify paying $25 plus shipping for a jar of yogurt. Let me rephrase that: I wasn't sure if I'd be able to hide a $25-per-jar-plus-shipping yogurt-habit from the hubs.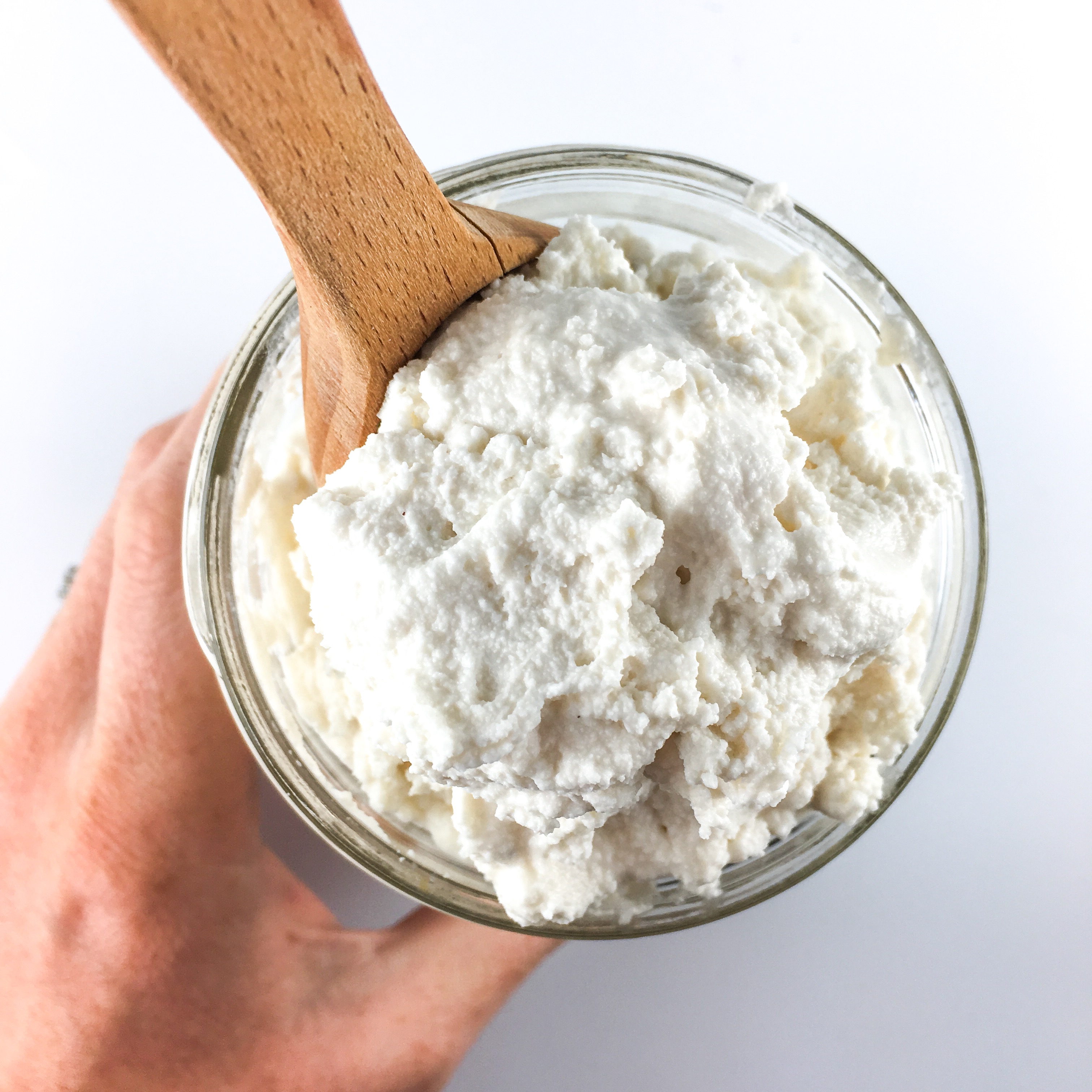 But you know what they say: necessity is the mother of invention. And after tasting some of this heavenly yogurt at a work event, I was definitely necessitating a suitable homemade alternative. Behold: my homemade coconut fluff yogurt!
Luckily for me – and our bank account – it wasn't as difficult as my four previous coconut-yogurt fails had led me to believe it would be. You literally just blend, stir and wait. Seriously, the waiting is the hardest part of this recipe. But the result? Your very own jar of coconutty creaminess to do with what you wish – eat it with berries, slather it on toast, bathe in it, whatever gets your flag up the pole.
I've tested this three ways so far – using fresh young Thai coconut meat; using dried, unsweetened coconut flakes; and using just raw cashews/no additional coconut to blend into the coconut milk. I personally prefer the fresh young coconut, as it yields amaaaazing flavor and a smoother consistency, not unlike a baby's bottom – as does the raw cashew + coconut milk option. That being said, the dried coconut produced a texture nearly identical to the Coconut Cult coconut cream yogurt, which is my fave flave of theirs, and I know many of you messaged me saying you couldn't get your hands on a young Thai coconut, so the dried coconut or the raw cashew/coconut milk versions are great alternatives in those cases. All three ways taste equally incredible. Let me know what y'all think!!
Quick refresher for reference if you're undecided on which variation to try:
*If you want the creamiest, most authentic, coconutty coyo –> try the original recipe using the young Thai coconut (raw cashews are optional – they just make it even thicker and creamier).
*If you want suuuper creamy + smooth, but can't find a young Thai coconut –> try the variation using a can of coconut milk + raw cashews (no added coconut) as the base.
*If you want a thicker consistency most similar to the Coconut Cult coconut cream yogurt (almost ricotta-ish, like the photos included in this blog) –> try the variation using the dried coconut flakes.

Coconut Fluff Yogurt
Because my husband will leave me if I pay $25 for a jar of yogurt. By farrrrrr, the best non-dairy yogurt I've ever had in my life!!! Smooth, creamy as a motha, not too tangy. The perfect solution to my yogurt cravings.
Ingredients
1 cup full-fat coconut milk (I like Whole Foods' 365 organic brand + Thai Kitchen best.)
the meat of 1 young Thai coconut (substitutions listed in instructions below)*
¼ cup raw cashews**
1 probiotic capsule (I used this one.)
Instructions
Blend the coconut milk, coconut meat (or coconut flakes*) + cashews in a high-powered blender or food processor until smooth. Pour into a jar.
Pull the probiotic capsule apart + pour the powder inside it into the jar. (I keep the empty capsules in a ziploc baggie + fill them with essential oils to take when I'm sick.) Stir well with a wooden or plastic spoon (apparently metal can mess around with the probiotic magic).
Cover the jar with cheesecloth + secure with a rubber band. This allows it to breathe, but keeps dust + pests out. I personally can't recommend a sub for cheesecloth - it's what works best for this recipe. Leave sitting on the counter, or any room temperature/warm-ish spot (preferably over 70 degrees) for up to 24 hours.
When it's done, store in the fridge for up to 5 days. It will thicken considerably in the fridge as well.
*I prefer using the young Thai coconut because it creates a smoother consistency and more authentic coconut flavor, but you can also try these subs: 1) Use ½ cup unsweetened coconut flakes instead of fresh coconut meat (I use these). I find that soaking the coconut flakes in the coconut milk in a lidded jar on the counter overnight before blending helps make it a bit smoother, but this will end up more of a ricotta consistency. OR 2) Blend 1 can full-fat coconut milk + ½ cup raw cashews (no added coconut) to use as your base before stirring in the probiotic, if you still want the super creamy consistency, but can't find a young Thai coconut.
**The raw cashews in the original recipe are included solely to add thickness + creaminess. If you're nut-free, you can totally omit them - the resulting texture will just be slightly different.