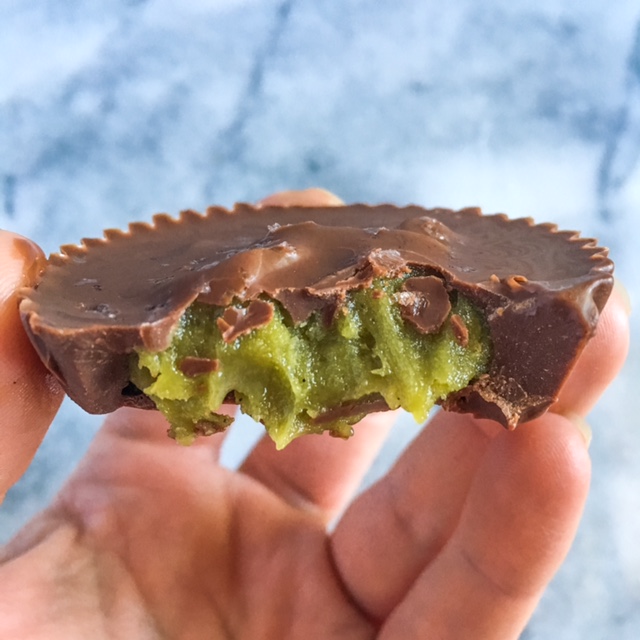 Behold: the matcha chocolate cup. A seemingly innocuous dessert that ignited an Instagram firestorm and set off a flurry of mixed foodie emotions. People weren't sure how to feel about a green slime-like substance oozing from what appears to be a chocolate peanut butter cup gone horribly, unjustifiably wrong. Like that cruel jellybean game Bamboozled. They look like normal, delicious jellybeans, but then by the time you realize that root beer jellybean you just popped into your mouth is actually dog-food flavored, it's too late. Sure, you can spit it out, but nothing will ever erase the emotional trauma. 
It also coaxed out a few haters who just couldn't keep their (completely unconstructive) criticism to themselves, figuring instead that a foul comment or two was just what the doctor ordered – comments running the gamut from "This is nasty" to "Slit my jugular and leave me to bleed" to (my personal favorite) "Looks lyk poop". Now, I'm not sure on what planet this is considered acceptable in response to someone's earnest attempt to share a delicious chocolate-y treat with the Insta-world, but on planet Earth, this type of s**t is frowned upon. I spent the better part of the weekend coming up with sassy retorts I'd never actually send in my head. Instead of singing in the shower or listening to music while driving down the road, I played out multiple revenge scenarios in my mind. Luckily I still had a couple of these lil guys to soothe my soul.
Now, before you start throwin' shade on my nums, just hear me out. This is creamy cashew butter…sweet maple syrup…delightful green tea…and delicious chocolate. Does anything about this sound "nasty"?? The answer: a resounding no.
Try it, y'all. You'll love it.

The Matcha Chocolate Cup Heard 'Round the World
Now these are controversial, so be forewarned. They're not your typical peanut butter cup, they're a more exotic distant cousin. But they're extreeeeeemely tasty, especially if you love matcha, which I most certainly do.
Ingredients
Chocolate Shell:
3 tbsp dairy-free dark chocolate chips (I used Enjoy Life)
1 tbsp coconut oil (I used Nutiva)


Matcha Filling:
1 tbsp cashew butter (I used Artisana Organics)
¼ tsp matcha powder
teeny drizzle of maple syrup to taste
tiiiiny drizzle of vanilla bean paste to taste (I should totally write songs.)


Sea salt flakes for topping (I used Maldon)
Instructions
First, I lined a muffin tin with two muffin liners.
Then, I stuck the chocolate chips + coconut oil in a small bowl + microwaved it for about 40 seconds.
While that was happening, I mixed up the cashew butter + matcha powder + maple syrup + vanilla bean paste until it was allllll smoooooooth.
I stirred the chocolate + coconut oil up until it was all incorporated, then I spooned just enough of each into the muffin liners to cover the bottoms. Stuck the tin in the fridge for a couple/few minutes to harden the chocolate a bit, then spooned the matcha filling into each cup, then split the remaining chocolate between the two cups. I sprinkled a little sea salt on top of each cup + stuck the tin back in the fridge while I went about my day.
After a few hours, I laid them to rest in my mouth, igniting a social media frenzy.