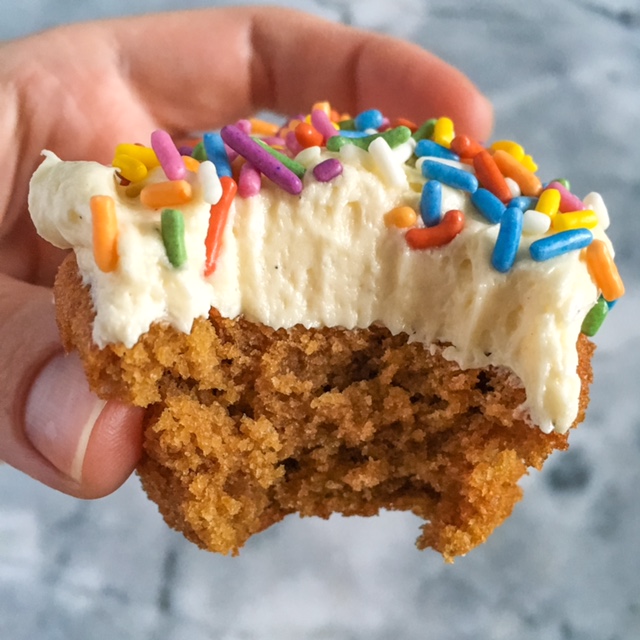 Y'all, my baby is 4. In fact, if you were within earshot at all on Wednesday, odds are you heard him mention it a time or ten. "It's MY birthday." "But it's MY birthday." "Guys, it's MY birthday!!!" If you thought he was bossy and demanding before, you probably wanna skip hangin' with Luke on his birthday. Like, maybe just say you're gonna be busy that day…doing anything other than being in the same room as him.
Anyway though, 4-year-olds (and really people of any age whatsoever) dig cupcakes. So I was given explicit instructions to whip up a batch of vanilla cupcakes with vanilla frosting…and rainbow sprinkles, which I was totally, 110% on board with. But they had to be a teeeeeeeny bit more virtuous as cupcakes go. Namely, they had to be gluten-free for mama's endometriosis – because homegirl's not makin' cupcakes if she can't have one herself, duh. Annnnnd anywhere I can cut down on the dairy a little without sacrificing taste, I'll do it in a millisecond.
These turned out soooo good: moist and flavorful with a 1:1 not-too-sweet, whipped frosting-to-cake ratio, just the way God intended. The only bad thing about them was their lingering existence in my house the following day. Have you ever tried to walk past a cupcake and ignore it?? They won't allow such indifference. I wasted many more minutes of my life than I care to admit staring at the leftover cupcakes yesterday, pondering what it might feel like to stuff one directly into my mouth.
In the end, though, willpower prevailed (with the help of lots of filling veggies and smoothies and snacks). My birthday cupcake consumption was contained to Luke's birthday alone. But these puppies didn't make it easy on me! Try 'em on your baby's next b-day. I guarantee they'll please.

It's MY Birthday: Health(ier) Vanilla Cupcakes
I don't know if you knew this, but people. love. cupcakes. Adult people, little people, probably even animals. So I wasn't shocked when my youngest requested cupcakes for his birthday treat. There are times you go the healthy route (90% of the time), and then there are times you use the butter. This is one of those times. Regardless, these are made healthier than your average store-bought cupcake with quality ingredients like grass-fed butter and subs like coconut sugar and homemade cashew milk. They're also gluten-free, so they work well for celiacs and people who can't do gluten. But they're still moist and completely freaking delicious. Score.
Ingredients
Cake:
7 tbsp organic unsalted grass-fed butter, softened
¾ cup organic coconut sugar
1 pasture-raised egg
1 tbsp vanilla extract
1¼ cups gluten-free oat flour
¼ tsp sea salt
1½ tsp baking powder


Frosting:
8 tbsp organic unsalted grass-fed butter, softened
2 cups organic powdered sugar
1 tsp vanilla-bean paste
a splash or two of homemade vanilla-bean cashew milk
a pinch or two of sea salt
Instructions
Preheat your oven to 375 degrees.
Then break out the mixer and toss the butter + coconut sugar in there. Beat it up until it's niiiiiiice and fluffy. Add in your egg and beat it more (heehee, that made me giggle), then beat in the vanilla.
In a separate medium mixing bowl, whisk together the flour + salt + baking powder. Add half of it to the mixer, beat it until it's mixed in, add half the milk, beat a little more, add the rest of the flour, more beating, then finally, the rest of the milk, beating until the batter is fluffy and all incorporated.
Spoon the batter into a muffin tin lined with muffin liners, and bake for 18-20 minutes. These won't be as puffy as your average cupcake, but who really gives?? A flatter surface means a better landing pad for frosting anyway.
Annnnnnnnd speaking of frosting, while those cuppycakes cool, make the frosting. Stick the butter + powdered sugar + vanilla-bean paste in the bowl of the mixer and beat away until it's all nice and creamy. Add a splash or two of cashew milk, just to bring it to the consistency you prefer, then add salt a pinch at a time, beating between each addition, until you get it juuuuuuuust right.
When the cupcakes are completely cooled (I repeat, completely cooled), frost those suckers. I prefer a nearly 1:1 ratio of frosting to cake, but you do you. Top with rainbow sprinks and bask in the glow of adoration.